Baileys Chocolate Cake
INGREDIENTS
CHOCOLATE CAKE
• 250g unsalted butter
• 250g light brown sugar
• 250g dark chocolate, melted then cooled
• 4 large eggs
• 350g self-raising flour
• 150g soured cream
• 150ml Baileys
 ICING
• 100g white chocolate melted
• 500g unsalted butter
• 500g icing sugar
• 45ml Baileys
METHOD
Grease and line 3 x 20cm round springform cake tins and preheat the oven to 160 degrees fan.
Beat together your unsalted butter and sugar until light and fluffy. Add in the eggs and beat until combined.
Add the Baileys, dark chocolate and soured cream and beat again until fully combined
Add flour, beat again until smooth.
Divide equally between the three tins and smooth across
Bake both cakes on the middle shelf for 20 minutes or until a skewer comes out clean.
Remove from oven, leave in the tin for 10 minutes then transfer to a wire rack to cool completely.
To make the buttercream, beat the butter until pale and fluffy, then add the icing sugar, white chocolate and Baileys and beat again until soft and creamy.
To Assemble
Start with one layer of the chocolate cake on to a cake board or plate, put a generous layer of buttercream across the top, then put another chocolate cake layer on and repeat the process.
Pipe or spread the remaining buttercream on to the top of the cake.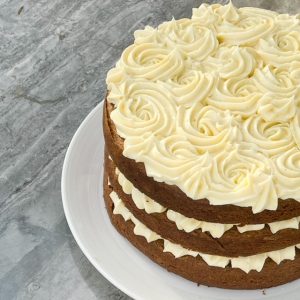 ENJOY! If you opt for Baileys Chocolate Cake, please do share a picture!