Apple, chocolate and cinnamon oat muffins
Alfie and Henry absolutely love muffins, and these are a nice alternative to a usual muffin with the oats and the apple, practically classes as one of your five a day! The simplest recipe and no equipment required; it can be all done by hand with just a whisk and a couple of bowls.
INGREDIENTS
1 1/2 cups plain flour
1 cup of quick cooking oats
2 teaspoons baking powder
Pinch of salt
1/2 teaspoon ground cinnamon
125g dark chocolate chips
3/4 cup of golden caster sugar
2 large eggs
250g unsalted butter, melted and cooled
170g natural yoghurt (I used a small pot of Fage yoghurt)
2 Apples, peeled, cored and chopped into pieces
Cinnamon sugar for the topping (this is optional, I use 3 parts caster sugar to 1 part ground cinnamon)
METHOD
Preheat oven to 180 degrees (Fan). Line a standard 12-cup muffin tin with muffin cases.
Whisk together flour, oats, baking powder, salt, and cinnamon.
In a separate bowl, whisk together sugar, eggs, butter, and yoghurt. Mix the wet ingredients into dry ingredients, then stir in apple and the dark chocolate chunks
Divide between the 12 cases and bake on the middle shelf of your oven for 15-20 mins until turning golden brown on the top and cooked through.
Cool in the tray for 10 minutes, then put on to a cooling rack to cool completely. These are delicious warm, so definitely try some after the initial 10 minutes cooling!
Store in an airtight container.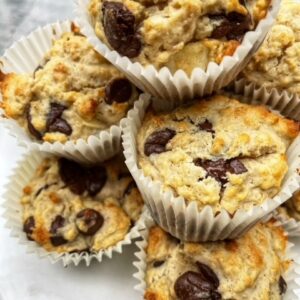 ENJOY! If you opt for Apple, chocolate and cinnamon oat muffins, please do share a picture!