White Chocolate & Blueberry Blondies (GF)
INGREDIENTS
75g caster sugar
175g light brown sugar
3 large eggs
200g salted butter
200g white chocolate
1/2 tsp vanilla bean paste
280g GF plain flour
1 tsp xanthum gum
150g blueberry conserve
50g blueberries
50g white chocolate chips
METHOD
Grease and line a 9inch square baking tin, pre heat the oven to 175 degrees fan
Whisk the eggs and butter until pale, light and fluffy
Combine the butter and white chocolate in a microwavable bowl and melt in 30 second bursts in the microwave
Pour the melted white chocolate and butter slowly into the egg mixture, keep the whisk running continuously, add the vanilla bean paste.
Add the GF flour and xanthum gum in a separate bowl and mix.
Fold the flour into the batter gently until fully combined.
Add the blueberry conserve and chocolate chips and lightly fold
Pour into the baking tin and bake for 25 minutes, it will have a slight wobble
Remove from oven, leave in the tin on a wire rack to cool completely. Once cool pop into the fridge for 6 hours, preferably overnight.
Slice and enjoy!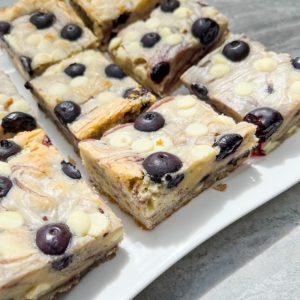 ENJOY! If you opt for White Chocolate and Blueberry GF Blondies, please do share a picture!