Blackcurrant, Sloe Gin & Chocolate Cheesecake
The flavour combinations in this are just beautiful and really makes the humble no bake cheesecake feel really quite grown up!
INGREDIENTS
200g biscoff biscuits
200g digestive biscuits
150g unsalted butter, melted, plus extra to grease
500g milk chocolate, broken into pieces
4.5 tablespoons of Mrs Bridges Blackcurrant & Sloe Gin preserve (or equivalent)
300g full fat Philadelphia
250g mascarpone
300ml double cream
60g blackcurrants or blueberries to serve
METHOD
Crush the biscuits with a hand blender until completely ground. Add melted butter and combine with a spoon
Grease and line the base of a 20cm round, deep, loose bottomed cake tin. Add the biscuit mixture to the cake tin and pat it flat with the back of a spoon. Leave to set in the fridge for about 30 mins.
Melt the chocolate in a heat proof glass bowl over a small pan of hot water on a low heat. Stir occasionally to prevent sticking and just before it is fully melted add the preserve and stir through.
Remove from the heat and leave to cool for 10 mins until barely warm but still a liquid consistency.
Meanwhile whisk the cream cheese and mascarpone together. Add double cream and keep whisking until the mixture is fully holding it's own shape. Finally add the melted chocolate and preserve mixture and whisk until combined.
Spoon the mixture over the cooled and set biscuit base, then smooth the top. Return to the fridge to cool for at least 4 hours until the topping is set. Serve with blackcurrants or blueberries.
Enjoy!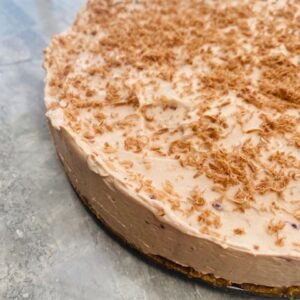 ENJOY! If you opt for Blackcurrant, Sloe Gin & Chocolate Cheesecake, please do share a picture!