Caramac & raspberry cheesecake mousse open pie
This one went down an absolute storm in this house! I mean what's not to like, it's not quite a cheesecake, not quite a mousse, it's a bit in between the two and its so deep fill it has to be an open pie! One thing I can tell you with certainty though is its VERY tasty.
INGREDIENTS
1 pack of chocolate hobnobs
1 pack of oreos
90g of butter melted
260g mascarpone
300ml double cream
2 heaped tablespoons icing sugar
1 can condensed milk
250g caramac melted and cooled (I used gold callebaut chips, available on Amazon)
A dozen raspberries
METHOD
Line an 8 inch loose bottom round tin and grease the sides
Crush all the biscuits, I used my Magimix for that to get as fine a crumb as possible, pour in the melted butter and mix. Tip into the lined cake tin and squash down the biscuit mixture across the base and push up the sides of the cake tin to create a pie like base. (see the picture to see how it goes up the sides). Put the tin in the fridge to set a little whilst you prepare the middle.
The middle is super easy, just pop all the ingredients into a mixing bowl and mix, this can be done with either an electric stand mixer or hand mixer, keep it going on a high power for about 4-5mins as you want the cream to get nice and fluffy.
When it's nice and thick and feels quite "fluffy", pour in on top of the biscuit mixture, it's absolutely fine if it goes over the top, that way it creates a really nice look. Top around the edges with the raspberries and cool in the fridge for 3-4 hours, ideally overnight.
Store in the fridge, it will keep for up to 3 days.Enjoy!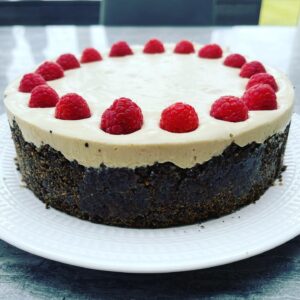 ENJOY! If you opt for Caramac & raspberry cheesecake mousse open pie, please do share a picture!