Cherry & Raspberry Brownies
These are always a winner with my friends and family, everyone loves a brownie!
INGREDIENTS
200g dark chocolate
100g milk chocolate
250g salted butter
300g light brown sugar
150g raspberries
150g glace cherries
4 large eggs
140g plain flour
50g cocoa powder
METHOD
Preheat oven to 180 degrees (fan) and line a 20 x 20cm baking tray tin with baking paper
Combine the chocolate, butter and sugar in a saucepan and gently melt, stir it occasionally then remove from the heat
Stir the eggs, one by one, into the melted mixture
Sieve in the flour and cocoa, and then mix together
Stir in 1/2 of the raspberries and all of the glace cherries (chopped up), put into the tray, then scatter over the remaining raspberries. Bake on the middle shelf for 40 mins or, if you prefer it more firm for 5 mins more. (I prefer them still a bit gooey in the middle!).
Cool completely before slicing into squares
Enjoy!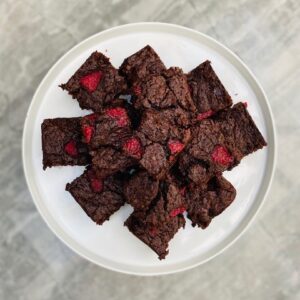 ENJOY! If you opt for Cherry & Raspberry Brownies, please do share a picture!