Chocolate layer cake
Back to basics with a delicious chocolate cake, with a slight twist by malting the buttercream icing so it tastes like malteasers!
INGREDIENTS
Chocolate Cake
425g light brown sugar
425g unsalted butter
425g self raising flour
8 large eggs
1 tsp vanilla essence
1 tsp baking powder
100g milk chocolate & 100g dark chocolate melted
75g malted powder (I use Horlicks)
Malted Chocolate Buttercream
500g unsalted butter
500g icing sugar
200g milk chocolate melted
50g malted powder (I used Horlicks)
METHOD
Preheat oven to 180 degrees (fan) Grease 3 8inch round cake tins, I always like to use spring form.
Using a stand mixer beat sugar and butter until smooth, add eggs, vanilla essence and melted chocolate and beat again
Add malted powder, self raising flour and baking powder and beat until thoroughly combined
Divide the batter equally between the three cake tins and bake in the over for 40 mins or until a skewer comes out clean. Once cooked cool in tin for 10 mins then remove onto a cooling rack and leave until cooled completely.
Make the butter icing by beating the butter until pale and creamy, add the icing sugar and melted chocolate and beat until all combined
Add in the malted powder, then thoroughly beat again
Ice using a palette knife or pipe between each layer of the cake and then finally on top.
Enjoy!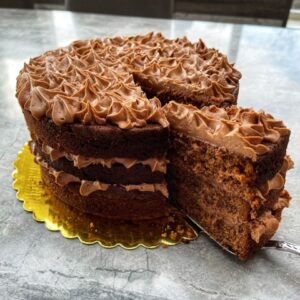 ENJOY! If you opt for Chocolate layer cake, please do share a picture!