Chocolate Orange Chip Cookies
Sometimes all you want is a cookie, well that's what Henry told me earlier this week, like it was a truly life or death moment, he's not known for underreacting!! This cookie recipe never fails, they are slightly chewy but also crunchy, a little like shortbread too, they have it all. They take 25 mins from start to finish so can be made up in an emergency bake if you suddenly have people coming over. They are perfect for baking with kids too.
INGREDIENTS
100g caster sugar
100g unsalted butter
2 egg yolks
1 tsp orange extract (I like the valencia orange extract the best)
150g self raising flour
100g dark chocolate chips
METHOD
Preheat your oven to 180 degrees fan and line one large tray or two small
Beat the butter and sugar together in a stand mix until creamy and smooth. Add the egg yolks and orange extract and beat again.
Add in the flour and mix, then add in the dark chocolate chips and beat until combined
Divide into 10 balls of dough and pop on to the tray, space them apart
Bake in the oven for 10-12mins then leave to cool on the tray on top of a cooling rack.
Enjoy!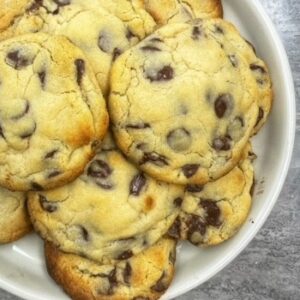 ENJOY! If you opt for Chocolate Orange Chip Cookies, please do share a picture!