Coconut Banana Loaf with Dark Chocolate & Peanut Butter Icing
This is one that caters for Vegans and non Vegans alike, a super tasty, quick loaf cake that you can also make gluten free by changing out the plain flour for gluten free flour too.
INGREDIENTS
Loaf Cake
4 ripe bananas mashed
Zest of 1 lemon
65ml sunflower oil
115ml maple syrup
1 tsp vanilla bean paste
320g plain flour
45g desiccated coconut
1tsp baking powder
1 tsp bicarbonate of soda
Pinch of salt
Handful of toasted coconut flakes
Butter Icing
250g vegan icing
500g icing sugar
4 heaped tablespoons peanut butter
100g melted dark vegan chocolate
METHOD
Preheat your oven to 180 degrees fan and line a loaf tin with greaseproof paper
In stand mixer add the mashed banana, lemon zest, sunflower oil, syrup and vanilla bean paste and beat until all combined (this can be done in a large bowl with an electric hand mixer)
Pour in the flour, desiccated coconut, baking powder, bicarb and salt and beat again, this will be a little lumpy and that is ok!
Pour into the loaf tin and bake for 35-40mins, check a skewer comes out clean. Cool in the tin once cooked for 10 mins then turn out on to a cooling rack and cool completely.
To make the butter icing combine all the ingredients and beat until a smooth butter consistency is formed.
Spread or pipe on to the top of the loaf cake and decorate with coconut flakes.
Enjoy!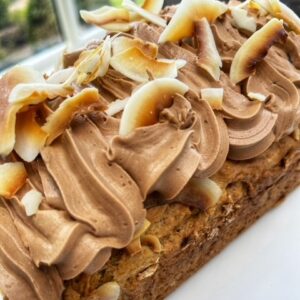 ENJOY! If you opt for Coconut Banana Loaf with Dark Chocolate & Peanut Butter Icing, please do share a picture!