Easy Lemon & Raspberry Loaf Cake
This does what it says in the title really, it's easy and quick to make, it's a long bake in the oven so it's a super delicious one.
INGREDIENTS
200g nsalted butter
200g golden caster sugar
4 large eggs
200g self raising flour
1 lemon, zest and juice
250g raspberries
150g icing sugar
METHOD
Preheat oven to 160 degrees fan and line a loaf tin
Using a hand or stand mixer beat the sugar and butter until light and creamy
Add eggs and beat again, then add flour and beat until combined
Add lemon zest and raspberries and fold through the mixture with a spoon
Pour the loaf batter into the lined tin and bake for about 55-60 mins or until a skewer comes out clean
Remove from the oven and allow to cool on a wire rack
Whilst it cools slightly mix the lemon juice with the icing sugar until a smooth paste is formed. Pour this all over the still warm loaf.
You can either serve warm or allow to cool completely. It will store in an airtight container for around 3 days (if it lasts that long)Tip : this is gorgeous served with either mascarpone or crème fraiche.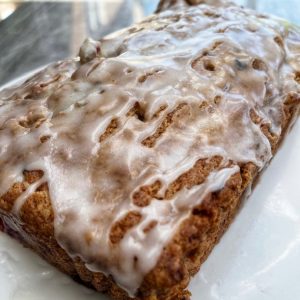 ENJOY! If you opt for Easy Lemon & Raspberry Loaf Cake, please do share a picture!