Lavender Shortbread
INGREDIENTS
SHORTBREAD
• 300g plain flour
• 200g cold butter
• 100g caster sugar
• 1 tsp edible lavender
ICING
• 3 tbsp icing sugar
• drop of water
• violet food colouring
• edible lavender
METHOD
1. Line a baking tray with greaseproof paper and preheat the oven to 160 degrees fan.
2. Either using a food processor or crumbing with your hands, combine the butter and flour.
3. Add the sugar and edible lavender and either pulse or combine with hand until a dough is formed. If its still a little dry add a splash of milk (you don't want the dough to be too sticky).
4. Turn out on to a floured worksurface and knead the dough slightly.
5. Roll out the dough until about a 1cm thick, using a 3-inch cutter, cut out 12 circles and place on to the baking tray.
6. Bake in the oven for 10-12 minutes.
7. Remove from oven, leave on the tray for 10 minutes then transfer to a wire rack to cool completely.
8. To make the icing, add the icing sugar and a splash of water to a bowl, mix using a spoon until a pourable consistency is formed. Add in a couple of drops of violet food colouring (optional) to create a pale lavender colour.
9. Pipe or drip using a spoon over each shortbread and then scatter additional edible lavender over the top.
10. Store in an airtight container.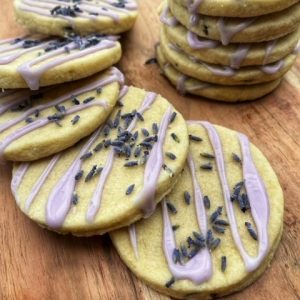 ENJOY! If you opt for Lavender Shortbread, please do share a picture!