Pistachio & White Chocolate Cookies
Makes 12
INGREDIENTS
• 325g plain flour
• ½ tsp bicarb of soda
• ½ tsp salt
• 1 tbsp cornflour
• 150g unsalted butter
• 100g light brown sugar
• 100g granulated sugar
• 1 large egg
• 200g white chocolate chips
• 125g shelled pistachios, chopped
METHOD
1. Grease two baking trays and preheat the oven to 175 degrees.
2. Using a stand or electric hand mixer beat together both sugars and butter until pale and fluffy.
3. Add the egg and beat again until thoroughly combined.
4. Add in the flour, bicarb, salt and cornflour and beat until fully combined but be careful not to overmix
5. Add the chopped pistachios and white chocolate chips, using a spatula or spoon stir through the cookie dough.
6. Divide in to 12 equal sized balls and put six on each tray.
7. Cook on your middle shelf for 12 minutes.
8. Remove from the oven and allow them to cool for 15-20 minutes on the tray before removing on to a wire rack to cool completely.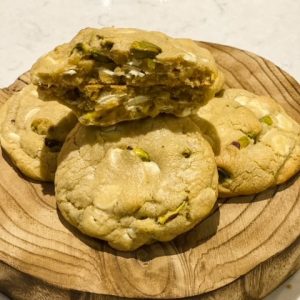 ENJOY! If you opt for Pistachio & White Chocolate Cookies, please do share a picture!