Pomegranate, Pistachio & Dark Chocolate Scones
INGREDIENTS
SCONE
• 275g plain flour
• 50g granulated sugar
• 1tsp baking powder
• 85g salted butter, cold and cubed
• 100g dark chocolate chips
• 100g pomegranate seeds
• 50g chopped pistachios
• 150ml soured cream
• 1 large egg
• 1 tsp vanilla extract
• 1 tbsp milk
FILLING
• 150g mascarpone
• 100g full fat cream cheese
• 1 tbsp icing sugar
• ½ tsp vanilla extract
METHOD
1. Heat oven (fan) to 215 degrees and line a baking tray.
2. Using a food processor or fingertips pulse together flour, sugar, baking powder and butter until you have small crumbs.
3. Decant into a large bowl and stir through chocolate chips and pomegranate seeds. Make a well in the centre.
4. In a separate bowl, whisk together the sour cream, egg, and vanilla. Add to the flour mixture, using a fork gently stir, try not to over mix. Bring to a dough ball.
5. Flour your work surface and shape into around 1 inch thick, cut into 8 wedges, separate and put them on your baking tray.
6. Brush with milk and bake for 10-12 mins until golden brown. Once cooked, cool on a wire rack.
7. Whilst cooling, make the filling. Whisk mascarpone, Philadelphia, icing sugar and vanilla extract together in one bowl.
8. Cut the cooled scones in half and spread a generous layer of filling, place the scones back together.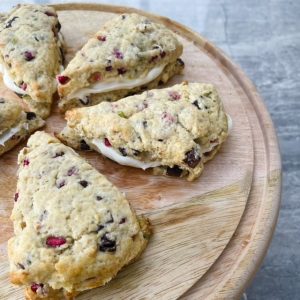 ENJOY! If you opt for Pomegranate, Pistachio & Dark Chocolate Scones, please do share a picture!