Raspberry & White Chocolate Cake
INGREDIENTS
CAKES
• 400g unsalted butter
• 400g caster sugar
• 400g self-raising flour
• 8 medium eggs
• 300g raspberries
• 300g white chocolate, melted
BUTTER ICING
• 350g unsalted butter
• 700g icing sugar
• 300g white chocolate, melted
Optional to decorate – handful fresh raspberries & freeze dried raspberries
METHOD
Grease and line 3 x 8inch round springform cake tins and preheat the oven to 180 degrees fan.
Beat together your unsalted butter and sugar until light and fluffy. Add in the eggs and beat until combined. Then add the melted and cooled white chocolate and beat again.
Add flour and beat again until smooth. Then fold in the raspberries to the cake mixture.
Spoon equal amounts into each tin and bake for 30-35 minutes or until a skewer comes out clean.
Remove from oven, leave in the tin for 10 minutes then transfer to a wire rack to cool completely. Once the cakes are completely cool I always level off the top of each one, it just makes it much easier to pipe and stack.
To make the buttercream, beat the butter until pale and fluffy, then add the icing sugar and white chocolate and beat again until soft and creamy.
Either pipe or spoon onto the first cake, add the second cake on top and repeat the process.
Optional: Once the top of the cake has been iced decorate with fresh raspberries and freeze dried raspberries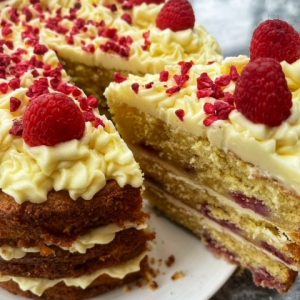 ENJOY! If you opt for Raspberry & White Chocolate Cake, please do share a picture!