Reeses Cookie Dough Scotch Eggs
I mean what's not too love?! Why have a plain Easter egg when you can make these bad boys! 
INGREDIENTS
300g white chocolate melted
300g milk chocolate melted
50g chocolate sprinkles
150g chocolate chips
2 tbsps peanut butter
397g condensed milk
7 Reeses chocolate eggs
150g unsalted butter
150g caster sugar
250g plain flour
Pinch of sea salt
METHOD
Heat treat the flour by microwaving in a bowl for 2 minutes, stir thoroughly and leave to cool
Make the cookie dough – beat butter & sugar in stand mix until smooth. Add salt & condensed milk & beat again.
Add melted white chocolate & mix thoroughly. Add flour & milk chocolate chips and mix again.
Combine the peanut butter with melted milk chocolate and stir in chocolate sprinkles.
Take a handful of cookie dough and wrap around a Reeses egg, cover completely.
Dip the cookie dough in the melted chocolate mix and leave to set on a cooling rack.
Enjoy!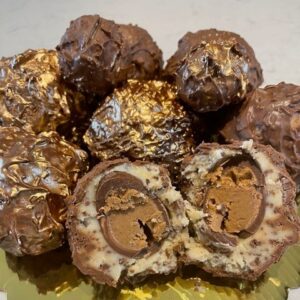 ENJOY! If you opt for Reeses Cookie Dough Scotch Eggs, please do share a picture!