Ricotta Baked Donuts
INGREDIENTS
DONUT
• 75g Ricotta
• 60ml milk
• 1 egg
• 36g butter, melted
• 1 tsp vanilla
• 125g self-raising flour
• 10g cocoa powder
• ½ tsp bicarbonate of soda
• 1 tbsp cornflour
• 70g light brown sugar
• Red food colouring
FOR DECORATION
• 100g melted white chocolate
• Sprinkles of your choice
METHOD
1. Line a 6-hole donut silicon mould and preheat the oven to 175 degrees fan.
2. In a medium-sized mixing bowl, beat together the butter, ricotta, milk, and sugar until smooth.
3. Add the egg, vanilla essence and food colouring and beat again to thoroughly combine.
4. In a separate bowl mix together the cornflour, bicarbonate of soda, flour, and cocoa powder.
5. Add the flour mixture to the bowl containing the wet ingredients and mix until fully combined
6. Spoon equal amounts into each donut hole and bake for 11-13 minutes (until a skewer comes out clean).
7. Remove from oven, leave in the mould for 10 minutes then transfer to a wire rack to cool completely.
8. To decorate, once cool spoon over the melted chocolate and cover in sprinkles.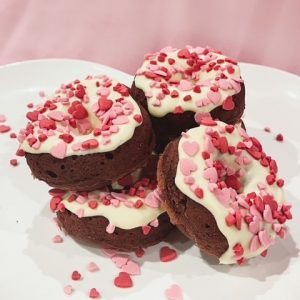 ENJOY! If you opt for Ricotta Baked Donuts, please do share a picture!