Strawberry & Chocolate Cheesecake
INGREDIENTS
CHEESECAKE
• 308g Oreos
• 75g unsalted butter, melted
• 500g mascarpone
• 340g full fat cream cheese
• 300ml double cream
• 200g white chocolate
• 4 tbsp strawberry jam
GANACHE
• Red food colouring
• 50ml double cream
• 150g white chocolate
FOR DECORATION
• 8 strawberries
• 100ml whipped cream
• 75g dark chocolate
• 25g white chocolate
METHOD
1. Crush the Oreos with a hand blender until completely ground. Add melted butter and combine with a spoon
2. Grease and line the base of a 20cm round, deep, loose bottomed cake tin. Add the biscuit mixture to the cake tin and pat it flat with the back of a spoon. Leave to set in the fridge for about 30 mins.
3. Melt the chocolate in a heat proof glass bowl over a small pan of hot water on a low heat. Stir occasionally to prevent sticking and just before it is fully melted add the preserve and stir through.
4. Remove from the heat and leave to cool for 10 mins until barely warm but still a liquid consistency.
5. Meanwhile whisk the cream cheese and mascarpone together. Add double cream and keep whisking until the mixture is fully holding its own shape. Finally add the melted chocolate and strawberry jam and whisk until combined.
6. Spoon the mixture over the cooled and set biscuit base, then smooth the top. Return to the fridge to cool whilst you prepare the ganache
7. To make the ganache put the food colouring, double cream and white chocolate into a microwavable bowl and heat at 15 second intervals stirring well after each one, until you have a smooth, glossy, pourable mixture.
8. Remove the cheesecake from the fridge, pour over the ganache and return to the fridge.
9. For the decoration, melt both chocolates in separate bowls in the microwave on 30 second intervals, when fully melted, dip the strawberries in the dark chocolate and pop on to a lined baking tray. Using a spoon drizzle, the white chocolate in lines. Once these are set enough to handle put on to the cheesecake leaving a little room between each one.
10. Beat the whipping cream until soft peaks are formed then either pipe or spoon between each strawberry.
.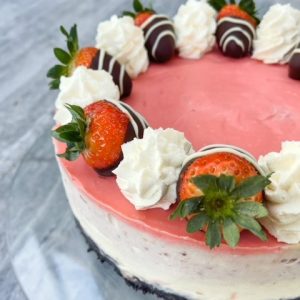 ENJOY! If you opt for Strawberry & Chocolate Cheesecake, please do share a picture!