Vegan Black Bean & Sea Salt Brownies
I defy anyone to believe these are made without dairy, absolutely gorgeous and a real joy to make!
INGREDIENTS
350g drained ready to cook tinned black beans
2 tbsp ground flax seeds, mixed with 3 tbsp boiling water and 3 tbsp cold water to make a thick gooey paste
70g dark brown soft sugar
80g cocoa powder
80g vegan dark chocolate finely chopped
75g maple syrup
3 tbps coconut oil
1 tsp vanilla bean paste
1 tsp baking powder
1 large pinch of sea salt
1 tbsp peanut butter
METHOD
Add black beans, oil, flax paste and vanilla bean paste to bowl and blend until you achieve a smooth paste
Add the remaining ingredients (not including sea salt, dark chocolate or peanut butter). Blend until well combined.
Pour the mixture into a 20cm x 20cm greased baking tin and spread out evenly.
Dot over the top with peanut butter, salt and then add the chocolate pieces over the top.
Bake in the oven at 160 degrees fan for 30-40 mins, cool completely in the tin until removing and slicing into squares.
Enjoy!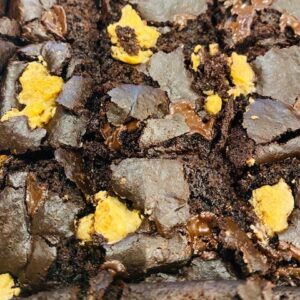 ENJOY! If you opt for Vegan Black Bean & Sea Salt Brownies, please do share a picture!