Vegan Chocolate & Peanut bundt cake
All I can say is this is delicious!!
INGREDIENTS
1 1/2 cups plain flour
1 1/3 cup caster sugar
2/3 cup cocoa powder
1/2 tsp bicarbonate of soda
3/4 tsp baking powder
3/4 tsp salt
3/4 cup soya milk
1/2 cup vegetable oil
2 tbsp white wine vinegar
1/2 tbsp vanilla extract
3/4 cup hot coffee
1/2 cup smooth peanut butter (my pref is always @manilife_ )
1 cup icing sugar
1 tsp vanilla extract
4 tbsp soya milk
Vegan chocolate shavings and rock salt for decoration .
METHOD
Preheat oven to 180 degrees (fan) Spray the inside of the bundt pan with oil and then lightly dust with cocoa powder.
In a large bowl, add the plain flour, sugar, cocoa powder, baking soda, baking powder, and salt. Add the soya milk, oil, vinegar and vanilla extract
Whisk to combine then pour in the hot coffee. Whisk again together just until combined.
Add the batter to the bundt tin and bake for 40-45 minutes or until a skewer comes out clean.
Let the cake cool completely. Make the glaze whilst it's cooling. Then turn out on to a plate.
In a medium sized bowl, gradually whisk the icing sugar into the peanut butter. Add the vanilla extract. Add the soya milk until it's pourable but not too runny
Pour the glaze over the cooled cake, sprinkle with rock salt, and chocolate shavings.
Enjoy!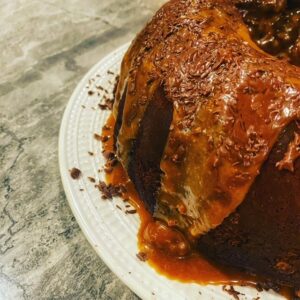 ENJOY! If you opt for Vegan Chocolate & Peanut bundt cake, please do share a picture!