Double Chocolate, Cherry and Oat Cookie Cake Bars
INGREDIENTS
• 125g salted butter
• 100g light brown sugar
• 100g golden granulated sugar
• 200g plain flour
• 1 tbsp natural yoghurt
• 50g cocoa powder
• 1 tsp bicarbonate of soda
• 50g jumbo porridge oats
• 1 large egg
• 250g glace cherries
• 100g white chocolate chips
METHOD
1. Grease and line a 9×9 inch tin and preheat the oven to 175 degrees.
2. Using a stand or electric hand mixer beat together both sugars and butter until pale and fluffy.
3. Add the egg and natural yoghurt and beat again until thoroughly combined.
4. Add in the flour, cocoa powder, oats and bicarbonate of soda, beat again until fully combined.
5. Add the glace cherries and white chocolate chips and fold through
6. Pour into your lined tin and bake on your middle shelf for 18-20 minutes
7. Allow to cool completely in the tin before turning out.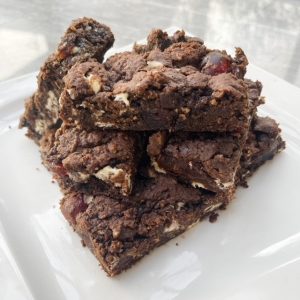 ENJOY! If you opt for Double Chocolate, Cherry and Oat Cookie Cake Bars, please do share a picture!