Lemon Drizzle Bundt Cake
INGREDIENTS
CAKE
• 250g unsalted butter
• 250g caster sugar
• 4 large eggs
• 280g plain flour
• 1 tsp baking powder
• Juice of half a lemon
• Zest of 3 lemons
• 40g natural yoghurt
SYRUP
• Juice of 3 lemons
• 100g caster sugar
ICING DRIZZLE
• 60g icing sugar
• 3 tsp water
METHOD
1. Generously grease your Bundt tin and preheat the oven to 170 degrees fan.
2. Using a stand or electric hand mixer beat together sugar, butter, lemon juice and lemon zest until pale and fluffy.
3. Add each egg at a time beating well between each one. Then add the natural yoghurt and beat again.
4. Add the flour and baking powder, beat until just combined but do not overwork
5. Bake the cake on the middle shelf for 45-50 minutes or until a skewer comes out clean.
6. Whilst the cake is cooking make the syrup, heat the sugar and lemon juice in a pan and allow to gently simmer for 3-4 minutes until reduced by about half, then transfer to a bowl to cool completely
7. Remove from cake from the oven, leave in the tin for 10 minutes
8. Using a wooden pick or skewer poke holes all across the cake (whilst still in the tin and is still warm) and pour over the cool syrup.
9. Leave to cool for another 15 minutes in the tin, then turn out on to a wire rack to cool completely.
10. Combine the icing sugar and water in a small bowl and drizzle over the top of the cooled cake.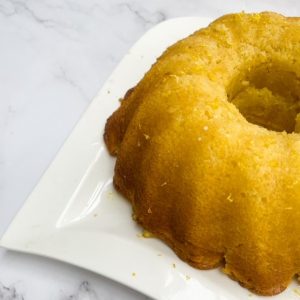 ENJOY! If you opt for Lemon Drizzle Bundt Cake, please do share a picture!