"Beauty the way nature intended" Clockface Beauty
You will see within "My Style" that I hardly ever don't have accompanied with my outfit the beautiful bracelets we designed and have handmade for Clockface Beauty.
For me they have almost become a comfort blanket as well as a fashion accessory, yes they are beautiful, the stones each carefully chosen, but not just on their appearance. Each has its own property, the Blue Angelite is a powerful stone that was discovered in Peru in the 1980s. Associated with the wind, it has a beautiful milky blue appearance that is believed to have a calming effect on your mind and the Peruvian Pink Opal is still worshipped today as a healing and protective stone. It is considered one of the most important healing stones that can have a profound effect on a person's mood. It's often referred to as the "stone of spiritual awakening" due to the powerful vibrations that it holds. I really feel that when I wear them.
I cannot recommend enough for both this reason and their versatility when styling with your outfit, head on over and take a look. They can be worn individually or stacked as pairs or a trio, my favourite combination is the Peruvian Pink Opal paired with the Swarovski pearl.
Peruvian Pink Opal & Rose Gold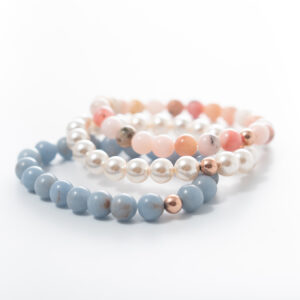 I'd love to hear what which is your favourite.