Your Perfect Afternoon Tea
What makes the perfect afternoon tea? Well traditionally an afternoon tea consists of finger sandwiches, followed by scones with jam and cream, then cakes, and obviously all accompanied with a pot of tea. But now, afternoon tea can be with anything you like, sausage rolls, muffins, biscuits and also with a side of champagne (my personal preference!) instead of tea.
I've created a menu with bakes to impress, you can prepare most ahead of time and then just sit back and enjoy the fruits of your labour with family and friends. One thing not to overlook is serving with the perfect drink, perhaps start with a prosecco or champagne, then on to a traditional tea (tea leaves are best) and then finish with a fresh mint tea after all that food! All the individual recipes are linked in the menu below.
THE MENU
Cucumber
Smoked Salmon and Cream Cheese
Egg & Mayonnaise
Scones
Plain scones with clotted cream and blueberry compote
Cakes & Biscuits
Lemon & White Chocolate Cupcakes
Strawberry & Mascarpone Eclairs
Chocolate & Pistachio Viennese Whirls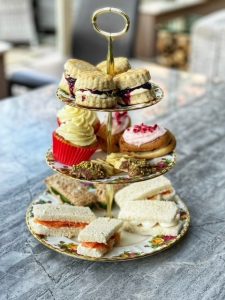 ENJOY! If you opt for Your Perfect Afternoon Tea, please do share a picture!